I constantly get asked which brush pens I recommend for brush lettering, and I can never give a great answer! I have so many brush pens, and love most of them for different reasons. I narrowed all of my brush pens down, so I now have my top four! I'm going to give you the pros and cons of each one, so you can hopefully get an answer on which ones would be the best for you!
Karin Markers
I had been eyeing karin markers for around two years before I finally splurged and bought them! They are everywhere in the lettering community, and once I tried them for myself, I finally knew why!
These markers have the most incredible ink flow, and one of the most flexible, easy to use brush nibs of any marker I own. They come in the most vibrant colors too. They have the prettiest range of colors, and each color is very saturated, but just as easily watered down to a much more muted tone. Because of the watercolor ink in the tubes of each of these markers, blending is so easy and so beautiful. Despite all of the incredible features of these markers, they are quite pricy, and actually pretty exclusive. You can only order them through the Karin Markers website and they ship from out of the country, if you live in the United States like me. However, for the usage I have gotten out of them, I would recommend these over any brush marker, despite the price.
Here is the link to the Karin Markers!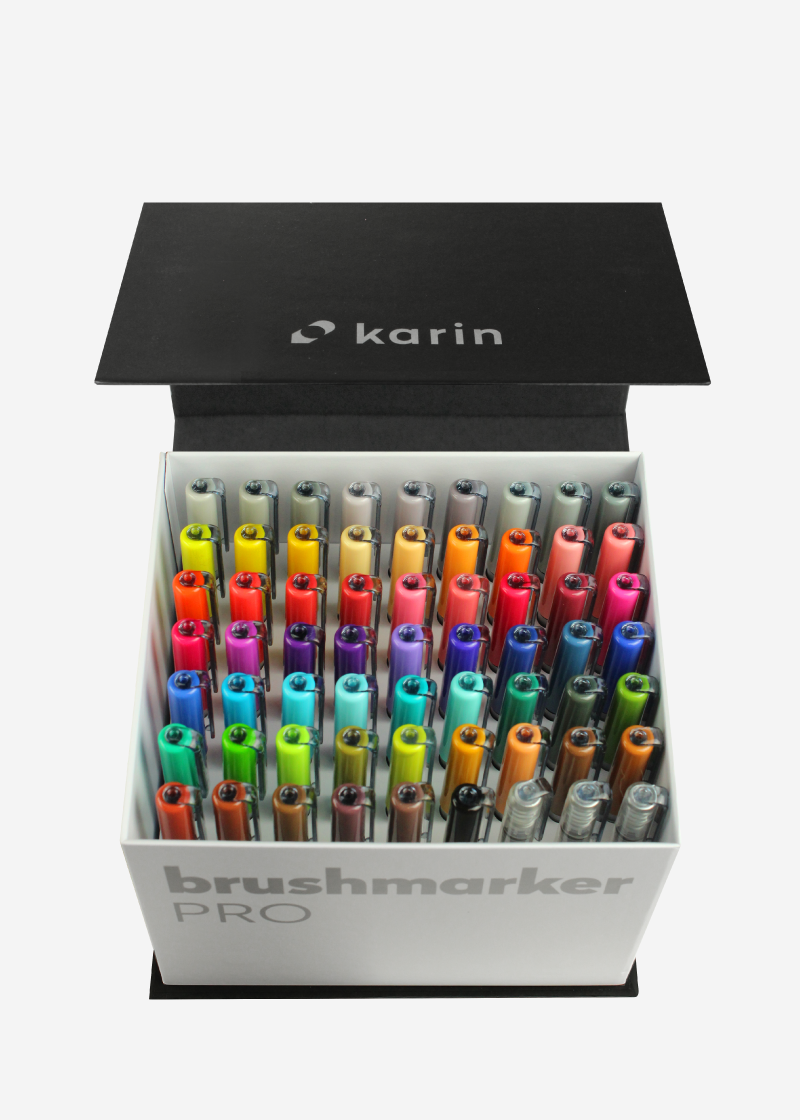 Koi Watercolor Brush Pens
Koi watercolor brush pens were actually the first brush pens I had ever purchased, around FOUR years ago! CRAZY RIGHT?!? My initial reaction was that I didn't like these brush pens. They seemed hard for a beginner to use, and the tip wasn't user friendly. As I have advanced into my lettering career, however, these markers rank #2 out of all of my brush pens. They have become one of my favorites for the small barrels, the vibrant colors, and the flexible brush tip. These markers are also super cost effective, and easily available through everybody's favorite mailing service–Amazon! The only con to these markers, however, is how fast the tips of the brush pens fray. Despite that however, they are a great brush pen!
Here is the link to these brush pens!
Ecoline Brush Pens
Ecoline brush pens are a great brush pen for beginners! They have a medium sized brush tip that is super flexible. They also come in super vibrant colors, and are easily muted with water or used as watercolors themselves. They are another watercolor based brush pen, like the karin markers, and they come in great color sets. Ecoline also has liquid watercolors, and it is so fun to dip the brush pens into the watercolors to create cool blends!
These pens are also pretty affordable. They are a little pricier than the koi watercolor brush pens, but they have lots of ink flow and last a long time. These pens are also super easy to find, as they are available through Amazon and even at the Michael's craft stores now! However, the tips on these pens also fray relatively easily making them a bit hard to work with after a while. These markers are great for beginners, and great for the vibrant colors and cool watercolor transitions!
Here is the link for the Ecoline Brush Pens!
Tombow Dual Brush Pens
Tombow dual brush pens are a great pen for beginners. Tombow dual brush pens have a big brush nib that's super flexible, making it easy to create those nice thick downstrokes in your calligraphy! These pens also come in a wide range of colors, and are also able to be used as watercolors. They blend so wonderfully, and create effortless gradients between any colors you choose!
The cons to these markers, though, are their extremely long barrels. These markers, also, can get pricey, especially when looking at the full 108 marker set. Although, most of their sets are easy to get and relatively cheap, you can also start to pile up some of the same colors by purchasing different, smaller sets of markers. Despite this however, they are a great brush pen and I definitely recommend them!
Here's the amazon link to the most basic Brush Pen set!